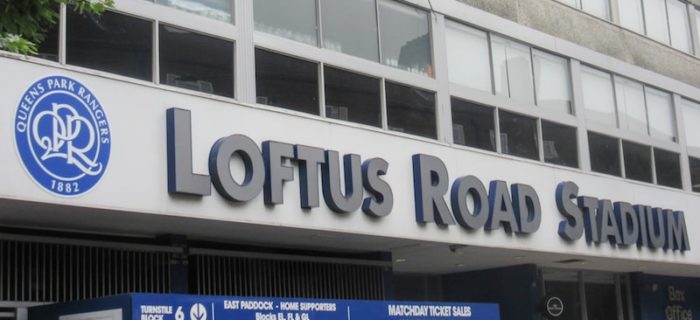 Loftus Road has been used for football since 1904 when Shepherd's Bush FC existed, and ever since 1917, it has been the home of Queens Park Rangers.
The ground sits in White City, near Shepherd's Bush in London and is just three miles up the road from another famous old stadium, Fulham's Craven Cottage.
After naming rights were gifted to a popular charity, the stadium, for now, is known officially as The Kiyan Prince Foundation Stadium.
As well as permanent owners QPR, Loftus Road has been used over the years by London Wasps Rugby Club, Fulham FC and for several international football matches.

Loftus Road Stadium History
1904
As a football ground, Loftus Road was first occupied by the amateur Shepherd's Bush Football Club from 1904 to 1915, though Queens Park Rangers moved in around 1917 and have never left.
1938
As the club developed, so did the stadium. In 1938 a new terrace was erected and featured the rarity of a roof, the structure housing 6,000 supporters and taking the overall capacity here to 30,000.
1948
Ten years later QPR was promoted from the Third Division and bought the freehold of Loftus Road. As well as the stadium, 39 nearby houses were also bought on the street, although these were sold in the '50s when the club's finances began to take a turn for the worse.
1953
In October 1953 floodlights were used for the first time at Loftus Road, though these were replaced for something more modern in the '60s.
1981
One controversial time in QPR and 
Loftus Road Stadium's respective histories was the installation of the Omniturf, or 'plastic' pitch in 1981. It was thought of as innovative at the time but was almost universally hated by players and fans and its placement came during a time when the club also opened the new School End and executive boxes.
The plastic pitch was of course eventually ripped up and a proper turf surface installed, with similar things happening at Oldham Athletic, Luton Town and Preston North End.
2019
In June 2019, a vote from a shortlist was conducted among fans to rename the stadium. Given the strength of feeling about QPR youth team player Kiyan Prince's untimely death in 2006, the winner was the Kiyan Prince Foundation Stadium.
Plans have been formulated to build a new stadium to replace 
Loftus Road Stadium, namely New Queens Park, though as of now they have not come to fruition at all.
So, one of English football's famous old grounds continues to provide its unique atmosphere and tight camera angles, something that has endeared it to neutral supporters all over the country for many years.
Important Stats
Loftus Road Stadium is made up of the following:
Capacity: 18,439
Record Attendance: 35,353 for QPR versus Leeds in 1974, before all-seater restrictions
Pitch: 102m x 68m, made up of a pure grass surface
Stands: Loftus Road is made up of the Loftus Road End (colloquially known as The Loft), the Ellerslie Road Stand, South Africa Road Stand and the School End. The upper tier of the latter is populated by away fans for league games.
Memorable Moments at 
Loftus Road Stadium
Back in 1975/76, QPR was at their very best when finishing a close second to Liverpool in England's top flight.
During that wonderful season, Rangers put down in history some memorable moments here. Their first home game of the season was a 2-0 win against Liverpool featuring goals for Trevor Francis and Mick Leach, while a 1-0 win against Man United was achieved in front of over 29,000 people.
A 5-0 hammering of Everton, an entertaining 4-2 win against Wolves and a 4-1 win against Coventry were all fantastic results achieved at Loftus Road during a very memorable campaign.
Since then there have been fewer successes, but still, some isolated moments that live long in the memory. During the 1984/95 season, Rangers drew 5-5 with Newcastle United here after a rousing come back from a 4-0 deficit at half-time. A season later, Rangers battered fierce local rivals Chelsea 6-0 here too.
QPR was present for the first season of the Premier League in 1992/93 and achieved a great 5th place finish ahead of the likes of Liverpool. During the campaign, QPR hammered Tottenham 4-1 at Loftus Road and won their last three home games of the campaign.
Bet on Matches at Loftus Road Now with Roger.com
You can place bets on QPR's home games now via one of our recommended online bookmakers. Bet quickly, safely and securely and always get the best price!