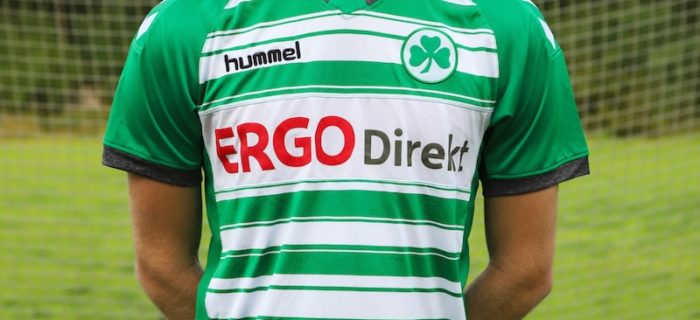 The Sportpark Ronhof Thomas Sommer, often simply referred to as the Sportpark Ronhof, is the home of German football side Greuther Fürth who have spent a little time in the Bundesliga.
It was decided only a year after Greuther Fürth was formed in 1906 that the club needed its own purpose-built stadium, with the then-named Sportplatz Ronhof being opened in 1910.
When the club really began climbing the ladder in the '90s, Greuther Fürth began the task of redeveloping what was then a rather ramshackle ground and from 1997 onwards this venue was remodelled on many an occasion, making it what it is today.
While the ground is compact, it generates quite an atmosphere for Fürth's home games and has seen action at the highest level in Germany.
Stadium Facts and Figures
Here are some of the important stats and facts about the bijou Sportpark Ronhof Thomas Sommer.
Opened: September 11, 1910
Renovated: 1951, 1997, 1999, 2007, 2008, 2012. There has been a culture of constant improvement here.
Expanded: 1911, 1919, 2012, 2016
Capacity: 15,606. 8,500 of these can stand with the rest all seated
Record Attendance: 32,000 for a match between Greuther Fürth and FC Nürnberg back in 1952
Pitch: a purely natural grass surface, the pitch at the Sportpark Ronhof Thomas Sommer has the standard dimensions of 105 metres by 68 metres
Stands: as is often the case, the ground is essentially made up of the Nordtribüne, Südtribüne, Osttribüne and Westtribüne, in other words, the North, South, East and West Banks.
Memorable Matches at the Sportpark Ronhof Thomas Sommer
Given its status in German football, this venue hasn't hosted World Cups or European finals, but it has by its own standards seen some important games and particularly in recent years.
Approaching Christmas time back in 2011, Greuther Fürth were in a good position in the 2. Bundesliga and could smell promotion to Germany's top flight.
When Union Berlin came to town, the game had a pretty high-profile feel about it with their opponents also capable of at least sneaking a place in the division's top three.
It turned out to be demolition in the end, however, as an impressive Greuther Fürth scored three times in the opening 23 minutes, Christopher Nöthe netting either side of an own goal by the visitors' Ahmed Madouni.
They did not back down in the second period either, Stephan Schröck and finally Bernd Nehrig also finding the net as the club recorded a famous 5-0 win. The club went on to land 6-2, 5-1 and 4-0 wins here that season to be crowed 2. Bundesliga champions by two points from Eintracht Frankfurt.
It may seem a tad strange throwing a 3-0 home defeat for Greuther Fürth into the mix here, but this game was a very important one.
Having achieved an unlikely promotion to the Bundesliga in 2012 and has had an excellent pre-season, Greuther Fürth entertained the mighty Bayern Munich no less for their first home game in the top flight.
The result was a foregone conclusion of course and the packed-out crowd were (almost) as happy to see goals from Thomas Muller, Mario Mandzukic and Arjen Robben as they would have been for their beloved home team.
Greuther Fürth put up a decent fight in this historic match for the locals, especially in what was a close first half, and that was almost as good as it got for them as they went on to be relegated immediately with zero home wins during the entire Bundesliga campaign.
Despite the misery on the pitch, nobody around the Sportpark Ronhof Thomas Sommer will forget the day Bayern Munich came to town.
Still a 2. Bundesliga side, Greuther Fürth played out another famous win at the Sportpark Ronhof Thomas Sommer in February 2017 when they entertained giants Hannover 96.
Man of the match Serdar Dursun scored twice on 16 and 64 minutes, while there were also goals on the day for Marcel Franke and Veton Berisha. Hannover replied late in the day with a goal from Edgar Prib.
While there were only 8,500 there to see the spectacle, this performance goes down as one of Greuther Fürth's better ones in recent years and against esteemed opposition too.
Wager on Games at the Sportpark Ronhof Thomas Sommer with Roger.com
You can bet on all matches at the famous Sportpark Ronhof Thomas Sommer via Roger.com. Get on now via one of our highly recommended online bookmakers so bet quickly, safely and securely.