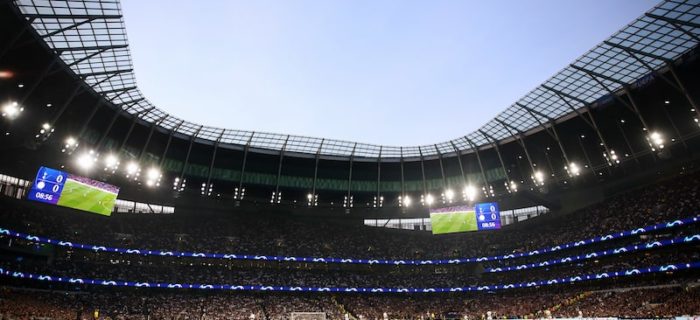 Replacing the iconic White Hart Lane in 2019, the Tottenham Hotspur Stadium is the new home of Spurs and is used not just for the football club, but for the increasingly popular NFL games too.
Sitting right on the sight of the old stadium, the ground has not moved Tottenham from their spiritual home and keeps them where they feel they need to be within the Premier League elite.
History of Spurs' New Home
After years at White Hart Lane, Tottenham announced in 2007 that redevelopment was considered. However, by April 2008 they had decided to buy up a trading estate nearby. This meant they could expand and build a brand new, bigger stadium.
In October 2008, the development project was announced. It included the building of the stadium alongside a museum, shops and homes.
After various problems, building work didn't get going until September 2012 with the construction of the actual stadium not beginning until 2015.
Eventually, and at a huge £1billion cost, the ground was ready to open in time for the 2019/20 Premier League season.
Stats
The newest major football stadium in England, Spurs' new venue has already become home to the fans with the following information making it what it is:
Capacity: 62,303
Record Attendance: 61,104 for Tottenham v Chelsea in December 2019
Pitch: A Desso GrassMaster surface, 105m x 69m in size
Stands: This cavernous affair is made up of the North and South Stands behind each goal, with the East and West Atriums either side of the pitch. A bowl-like venue, all areas of seating join up around the playing surface.
Memorable Early Games at the Tottenham Hotspur Stadium
Already Spurs' new stadium has seen some cracking games and some big results affecting both the home side and their various visitors, with these games being the top 5 so far although there will surely be many more classics to come here in the coming years:
Tottenham Hotspur 3-1 Aston Villa
Spurs' first Premier League game at their new home was always going to be an important and memorable affair, with newly-promoted Aston Villa the fodder for Jose Mourinho's side.
Not exactly according to the script; Tottenham were not at their best. They were behind to John McGinn's early strike for more than 64 minutes before Ndombele equalised. A very late double from Harry Kane claimed the win for Spurs. However, as they ultimately made sure of three points at the first attempt here.
Tottenham Hotspur 2-7 Bayern Munich
Admittedly this wasn't a good night for Spurs. But in terms of the history of this stadium, it will live long as an important and extraordinary result as Bayern arrived in October 2019 for a Champions League group game.
This was a sore one as the home side were torn apart by Bayern, former Arsenal man Serge Gnabry rattling in four strikes on his own as the Germans took away a huge 7-2 win. In fairness, Bayern went on to beat Barcelona 8-2 later in the competition before beating PSG in the final too.
Tottenham Hotspur 5-0 Burnley
In terms of the scoreline, Spurs' home game against Burnley in December 2019 provided the club with their high point in the league with a 5-0 win. Goals from Harry Kane (2), Lucas Moura, Son Heung-min and Moussa Sissoko made sure of the points amid a very festive atmosphere.
Tottenham Hotspur 2-0 Manchester City
This was a year in which, despite playing wonderful football, Man City kept on finding a way to lose with the gap between themselves and Liverpool widening all the time.
This one was particularly galling for Pep Guardiola, as his old El Classico rival Jose Mourinho oversaw a Spurs win after his side missed a host of chances, Steven Bergwijn and Son Heung-min grabbing the goals.
During the strange times that were COVID-19 and its associated lockdown, this match in July 2020 became the first north London derby to be played at the Tottenham Hotspur Stadium and the first to be staged behind closed doors.
Of historical interest, the game was important enough but given also that the two rivals were locked close together in the league and both looking to get into Europe it was huge for the players. Son and Toby Alderweirald overturned Lacazette's early goal for a 2-1 win.
Wager on Games at the Tottenham Hotspur Stadium with Roger.com
You can bet on all of Spurs' home matches via Roger.com now. Get on to wager quickly, safely and securely with one of our recommended online bookmakers.